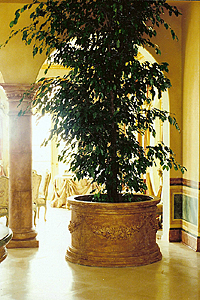 The stone I have worked with is actually cast stone, from a recipe I devised myself.

With much experimentation I created a mix which is easy to cast, hardens quickly and is both strong and lightweight.

The molded planter depicted here is made of 4 quarters which I cast from a wood and clay original I made. Before dry, I paint the cast pieces so paint and stone become bonded much as is the principle in frescos.