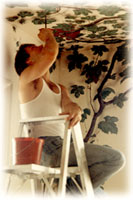 b. 1954, Aspen, Colorado

Languages spoken:
English, French, German, limited Italian
Cities lived in:
New York, Montreal, Winnipeg,
Salt Lake City, San Francisco,
Düsseldorf, Paris, Munich,
Los Angeles, Basalt, Boston (current)

Professional Career Span:
Since 1968

"How can you do so many things and still do them all well?"
I do one thing at a time.
In 1973, at the age of 18, I arrived in New York with $6.00.
I went to Juilliard looking for a friend of mine. That morning I was hired to work in props. Three weeks later I was the head of the scenic department of the Juilliard Theater. I began moonlighting as assistant to the designers.

In 1974 I was awarded a scholarship to study dance with Les Grands Ballets Canadiens in Montreal. As a diversion, I visited a cartoon animation studio.
I was asked to stay and was trained while I worked.

In 1978 while working for the San Francisco Opera I was invited to Europe to assist in a production of Wagner's Ring. I developed a system for translating a 2-dimensional drawing into 3-dimensional space (accurately) using a programmable handheld calculator (before I had ever heard of computers doing 3-D rendering).

Many other career variations and enhancements came to me in the same serendipitous way. Often, when someone had a problem and there was no job description to solve it, I was called in informally to solve a problem and then asked to stay.

I would like to extend my heartfelt gratitude to the people and mentors who were, and continue to be, so generous with their enthusiasm and friendship along the way.