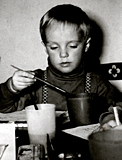 I was born and raised in Aspen, Colorado.

At the age of 10 I was hired as a printer's apprentice where I learned to typeset and run a Heidelberg press in the back of the Aspen Times. At 12, I was cashiering and doing the daily reports for our family restaurant, Gretl's, on Aspen Mountain. At 13, I was asked to contribute cartoons to the local newspaper and began a long-term assignment doing illustrations for newspaper advertisements. In my early teens I began writing and contributed full-page editorials to the paper accompanied by my own photography. At this time I was commissioned by an independent client to illustrate a book of my poetry, which I hand-bound in leather. I also produced and published two small children's books locally, and was commissioned to illustrate a third.

At 18 after being kicked out of University for disputing the school's unprogressive and restrictive art programs, I left for New York City. Arriving with no money, I was offered a job at The Juilliard Theater in Lincoln Center. Three weeks later I was asked to be head of the theater's scenic department. I was also offered work as an assistant to the production designer. Adept at drafting and exceptional model building, I soon had a reputation that earned me invitations to assist other designers in New York and Canada. Six months later, I was designing my own sets. In between projects, a film animation studio in Montreal invited me to work on TV commercials and design and paint backgrounds for a special animated film project they were developing.

I had a brief foray into the world of dance when I was awarded a scholarship to Les Grands Ballets Canadiens, where I was second in my class. (I had taken ballet & modern dance at University to fill the gap left by ignoring my art classes.) After being transferred to John Thomas School in New York City, it became clear to me how specialized those kids were and I saw that, likewise, I should focus on my stronger talent with the visual arts. I returned to Winnipeg in answer to an invitation to be head of the prop department of the Manitoba Theater Center.

Shortly thereafter I took a 1-year sabbatical, moving to Salt Lake City, and worked in advertising as an illustrator and wrote copy for newspaper, radio and television ads. For a very brief period I even created backgrounds for the Ten O'clock Evening News in Salt Lake City. Other projects on the side included logo design and conceptual designs for commercial architecture.

- Back to top -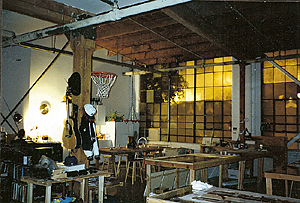 My loft-studio at 1427 E. 4th St. #5
in Los Angeles, 1995-2000.
b. 1954, Aspen, Colorado

Languages spoken:
English, French, German, limited Italian

Cities lived in:
Aspen, New York, Montreal, Winnipeg, Salt Lake City, San Francisco, Düsseldorf, Paris, Munich, Los Angeles, Basalt, Boston (current)

Professional Career Span:
since 1968



When I was 23, I moved to San Francisco where I found work in the costume shop at the Opera. There I met one of Europe's leading designers, Pet Halmen, who invited me to Germany to assist with the design of the Strasbourg-Lyon production of Wagner's Ring. In four years in Europe, I lived in Düsseldorf, Paris and Munich, each serving as a home base as I flew to work in many of the big opera houses of Germany, France, Holland and Denmark. "Style", one of Germany's leading fashion magazines, commissioned me to illustrate "The Four Seasons" for their quarterly magazine. The series was so successful that reproductions requested by their readers were printed and sold.

In 1981 I received a large commission to do various original art pieces for a large house being built in Aspen. The commissions included many hand painted stained glass windows done in the traditional techniques of the old cathedrals. It also included much etched glass, and a bronze sculpture.

In 1994, at the birth of the Internet as we have come to know it today, Bill Joy of Sun Microsystems invited me to participate in his experimental Smallworks Studio. At this time I also produced and scored the music for a short animated film introduction for a Reuters presentation at the Aspen Institute for Humanistic Studies.

In 1986, within 2 months of moving to Los Angeles, I was invited to work as one of the art directors on a feature film. I was also asked to work on some of the film's storyboards. This led to similar work on HBO movies and syndicated TV shows. I was the production designer for numerous national TV commercials and was a design consultant for the Beach Boys 1987 summer tour, for which I also contributed some of my own designs. I also continued to do storyboards for national TV ads.

In Los Angeles and a few cities across the United States, I received numerous commissions from private clients to design and create many special art pieces in various media. These include trompe l'oeil murals, straight murals, paintings on canvas and silk, stained, leaded, and etched glass and crystal, lacquered and carved wood and furniture, and a bronze for the former director of the Museum of Science and Industry.

I currently reside on my ranch in Colorado with my wife, two children, two white boxers and a bunch of horses. I am vigorously painting and writing music, and working on cookbooks and children's' books.

My hobbies include cooking, writing music, skiing and, before children, skydiving.

- Back to top -



Walking a tightrope in Aspen.